Parma Ham Museum – Langhirano
The history and production of the most famous ham in the world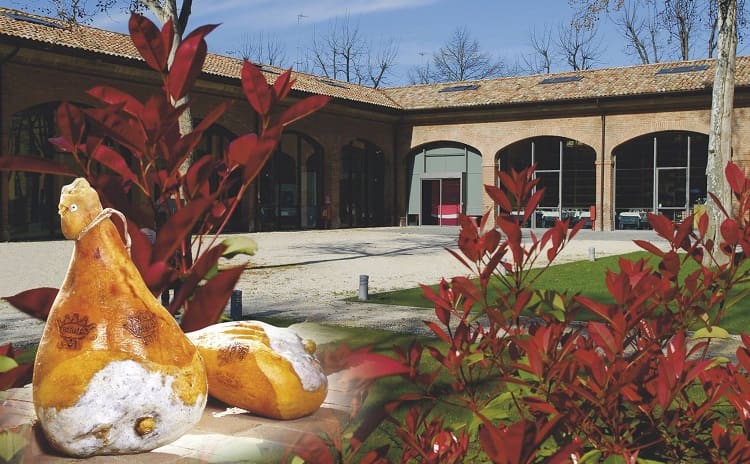 The Parma Ham and Salami Museum is located in Langhirano, the city considered to be the home of Parma Ham. The museum is housed in the vast structure of the former Foro Boario, splendid rural architecture of the early twentieth century, thought as a livestock market.
Divided into eight sections, the tour of the Museum begins with the section dedicated to the territory, illustrating the agriculture of Parma, and then moving to the section dedicated to pig breeds, their diffusion in the various continents and the varieties used for the production of Prosciutto of Parma.
The rich section dedicated to salt tells the story of this important food preservation tool, which thanks to the wells in the area, has favored the development of the art of charcuterie. Also exposed a collection of salts from all over the world and a rare film on the extraction of salt from Salsomaggiore wells.
The fourth room is dedicated to the butchery and collects, along with numerous historical documents about the activity of slaughtering pigs over the centuries, a large sample of ancient objects used by generations of butchers for the processing of meat.
The remaining sections show the other typical cured meats of the Parma area, explore the theme of gastronomy and the use of ham in the kitchen and narrate through video evidence, the techniques of ham processing and the structure of a ham factory.
The visit ends with a tasting at the Museum's Prosciutteria and at the shop of local products of excellence.
USEFUL INFORMATION
Opening hours:
– open from March to early December
– to see days and opening hours, go to the website>>>
– from December to Februaryby reservation only for groups
Entrance with a fee
It is recommended to wear a safety mask and to keep an interpersonal distance of at least 1 meter.
For information please call +39 340.1939057 or visit the official website>>>
Food Museums in the province of Parma
Parma Ham Museum is part of the "Food Museums" circuit of the province of Parma, dedicated to typical local products. It also includes:
– Pasta Museum in Giarola di Collecchio
– Tomato Museum in Giarola di Collecchio
– Wine Museum in Sala Baganza
– Felino Salami Museum in Felino
– Parmigiano Reggiano cheese Museum in Soragna
– Culatello di Zibello and Masalen Museum in Polesine Parmense
– Porcino Mushroom Museum of Borgotaro in Borgo Val di Taro
(Photo from the Facebook page of the museum)
More Information >>>