Historical Carnival in Bibbiena
27 February and 1 March 2022. It commemorates the kidnapping of Mea. Flag wavers, parades, musicians…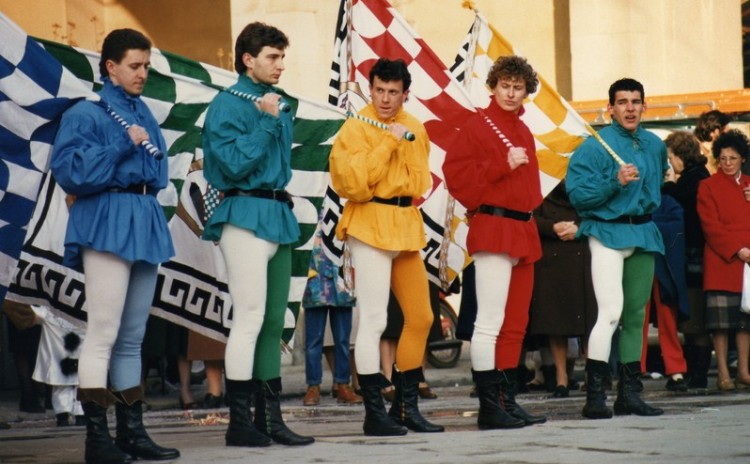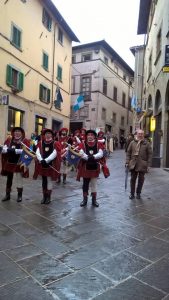 IN 2022 ONLY THE  SUNDAY AND MARDI GRAS TAKE PLACE
The Historical Carnival of Bibbiena is celebrated since 1350 and commemorates the legend of the beautiful young washerwoman Mea who was contended to her fiancé by the son of Bibbiena's Governor. the young Conte Tarlati.
In the end, the Count returned Mea to the betrothed and all Bibbiena people went out in the streets celebrating Mea and her fiancé burning a tree so called the "Pome of Peace" to represent the end of the hostility and the return of the city's order.
For this reason the Historical Carnival of Bibbiena is also known as the "Celebration of the beautiful Mea" and the city is animated like Medieval celebrations when there were animal and fruit markets, open air taverns, games and shows in the main square.
The first day of the event is two weeks before, when all taverns are opening and offer clients old recipes.
On Sunday, February 27th is the day of the kidnapping of Mea, traditional parades and exhibitions of flag wavers.
On Mardi Gras, in 2022 on March 1st, Mea is returned back to her fiancé and finally the juniper tree called Pome of Peace or "Bello Pomo" is burnt, to remember the reconciliation between the family of Conte Tarlati and the citizens of Bibbiena and as a good luck for the harvest of the year.
We kindly recommend to check on the event's facebook page for any possible change of dates or program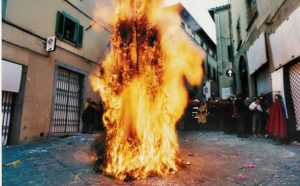 Phtos: from the website and official facebook of the event.
More Information >>>