Fenis Castle
One of the most famous tourist attractions in Valle d'Aosta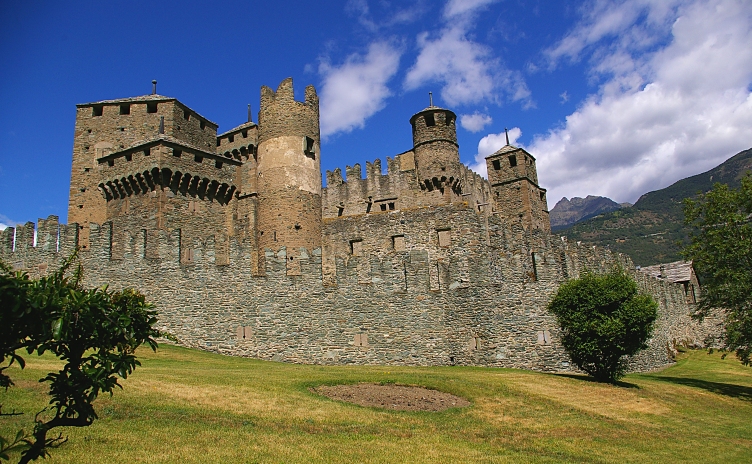 Fenis Castle is a Medieval castle characterized by a double crenellated surrounding walls that encloses the central building and the towers.
Located in Fenis Municipality, Fenis Castle is one of the most visited Medieval castles in Valle d'Aosta.
At the ground floor there are the weapons room, the refectory for soldiers and servants, the pantry and kitchen with a big chimney.
At the first floor the chapel with the camera domini (representation room), the noble kitchen, the dining room of the lords and the justice room.
The path ends in the inner courtyard, characterized by a big semi-round staircase where the fresco of Saint George killing the dragon is painted.
Looking upwards towards the upper floor it is possible to observe the wooden balconies decorated by a group of wise men and prophets that bring cartouches on which proverbs and moral quotes in old French are readable.
On the Eastern wall there are paintings of the Annunciation and of Saint Cristopher confered to a painter near the school of Jaquerio that date back to the period between 1425 and 1430.
Curiosity about Fenis Castle
Fenis Castle has been a film set of the movie Fracchia contro Dracula by Neri Parenti of 1985 and in 2006 some of the scenes of the mini tv series La Freccia Nera where shot.
USEFUL INFORMATION
Opening hours:visit the website>>>
RESERVATION is not necessary but is kindly RECOMMENDED in order to avoid queues.
For booking visit this website>>>
FROM AUGUST 6TH MANDATORY TO HAVE THE GREEN PASS OR EQUIVALENT CERTIFICATION
Entrance with a fee
Valle d'Aosta has many attractions and destinations to offer.
Discover Valle d'Aosta here >>>
Photos: from website and wikipedia