Festa della Sensa – Venice
May 29th, 2022. The boat parade to celebrate the wedding ceremony between Venice and the Sea.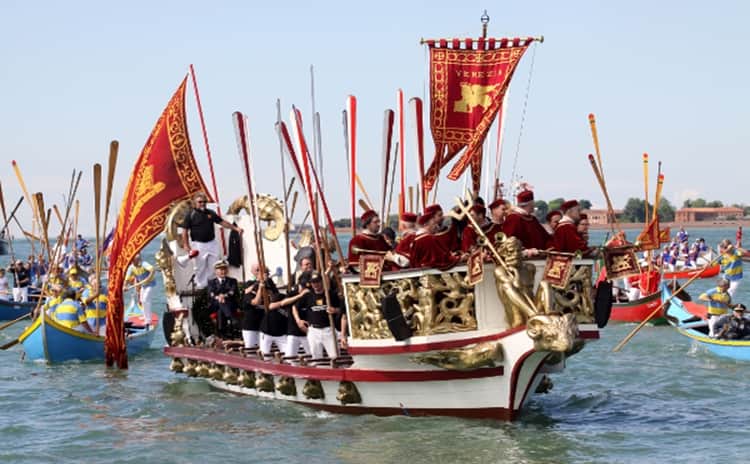 The Festa della Sensa (Feast of the Ascension), which takes place in Venice on May Sunday 29th, 2022, makes tourists relive the age-old history of the Serenissima Republic and its intimate relationship with the Sea, as well as the customs and traditions of Venetian Rowing.
The Festa della Sensa or Ascension of Christ was a feast day for the Republic of Venice.
"Sensa" in the Venetian dialect means "Ascension".
It commemorates two important events for the Republic: the 9th May 1000AD, when Doge Pietro II Orseolo helped Dalmatian inhabitants threatened by the Slavs, and the second event, connected to 1177AD, when Venice was ruled by Doge Sebastiano Ziani. At that time, Pope Alexander III and Emperor Federico Barbarossa met in Venice and stipulated a peace treaty, ending a century-old diatribe between the papacy and the Imperial Reign.
The Wedding ceremony of the Sea is held in remembrance of this event each year, and, from that date each year, the Doge, on his state barge – the "Bucintoro", would sail to San Pietro di Castello at St. Elena, where the Bishop would be on board a gilt-edged boat, waiting to bless him. To highlight the dominion of the Serenissima over the sea, the Feast ended with a type of propitiatory rite: on reaching the lagoon inlet, the Doge would throw a gold ring into the water.
Today Venice celebrates with a water parade of traditional rowing boats. At the head of the parade is the "Serenissima", a boat carrying the Mayor and other city dignitaries. Still today, on board this boat, the marriage rites with the sea are celebrated through an evocative ceremony, of a ring being launched into the water, and the religious ceremony afterward, at the church of San Nicolò on the Lido.
The programme ends with the Venetian rowing competition and further events are planned in the same days.

Today, the "Sensa" is an opportunity for a big get-together, and being conscious of Venetian history and traditions and its relationship with the sea.
(photo credits: Vela Spa)
INFO
Tourism Venice
Tel. +39 041.5298711
E-mail: >>>
Are you in Venice?
See other events and places to see in Veneto>>>
Are you a food lover? Discover more about the Venetian cuisine here >>>
More Information >>>