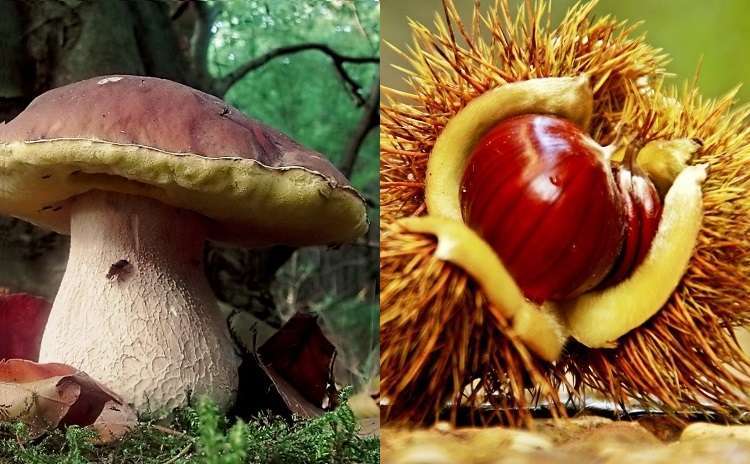 Mushrooms and Chestnuts
Mushrooms and chestnuts are the king and queen of Autumn, acclaimed by multitudes of joyful gourmets.
In Italy there are many fairs and festivals in honor of mushrooms and chestnuts (sometimes even together!), and they dispense good humor and rustic good living, both in the North and in the South of Italy.
Here is a selection of mushroom and chestnut fairs and festivals.
We recommend always checking the official websites or Facebook pages by following the links in each article to see for any program changes.
NORTHERN ITALY
Piedmont
– October – National Chestnut Fair – one of the most important food and wine exhibitions dedicated to chestnuts in Cuneo>>>
Trentino Alto Adige
– October – Keschtnriggl, the Chestnut Festival in various locations in Trentino, in Lana, Foiana, Tesimo, Prissiano>>>
Emilia Romagna
– September – Borgotaro Mushroom Fair – two weekends, in the province of Parma>>>
– October – Chesnut Feast – in Castel del Rio, in the province of Bologna>>>
– October – National Porcini Mushroom Fair – in Albareto, in the province of Parma>>>

CENTRAL ITALY
Tuscany
– October – Marradi Chestnut and Good Marron Fair – in Marradi, in the province of Florence>>>
Lazio
– October – Chestnut Festival – historical re-enactment and great festival in honor of the chestnut in Soriano nel Cimino, in the province of Viterbo>>>

IN SOUTHERN ITALY
Calabria
– October – Chestnut Festival in Serra Pedace, in the province of Cosenza>>>
Campania
– September-October – Cusano Mutri mushroom festival, in the province of Benevento>>>
– October – Chestnut and Hazelnut Festival in Avella, in the province of Avellino>>>
– October – Chestnut and Black Truffle Festival, a great party in the historic center of Bagnoli Irpino, in the province of Avellino>>>

TO BE CONFIRMED
CENTRAL ITALY
Tuscany
– October-November – Crastatone, one of the most important and ancient chestnut festivals in Monte Amiata area. In Piancastagnaio, in the province of Siena – TO BE CONFIRMED >>>
Lazio
– October – Mushroom and Wild Herbs Exhibition – over 200 fungal species, handicrafts and local products in Bracciano, in the province of Rome- TO BE CONFIRMED >>>
IN SOUTHERN ITALY
Calabria
– November – Chestnut Fair – the oldest in Calabria, in Sant'Agata di Esaro, in the province of Cosenza – TO BE CONFIRMED >>>
Campania
– Between late September and early October – Divin Castagne, the Festival of Art and Taste in Sant 'Antonio Abate, in the province of Naples – TO BE CONFIRMED >>>
photos from wikipedia