Good Friday Procession – Orte
April 7th, 2023. Traditional and ancient Easter tradition in the province of Viterbo.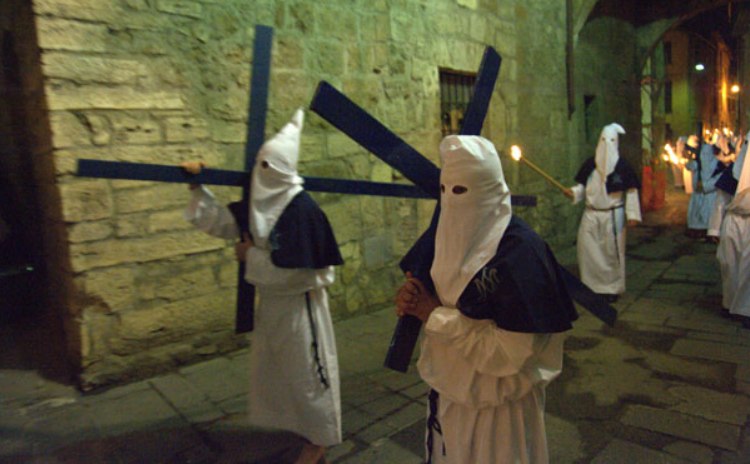 On April 7th, 2023 it takes place in Orte (Central Italy, province of Viterbo) the Good Friday Procession also called The Dead Christ Procession.
The Good Friday Procession is one of the most ancient rituals in Italy and it takes place in the evening in the city centre, illuminated by torch lights.
The seven brotherhoods leave their respective parishes and reach the Mother Church of St. Croce. Carried by 14 men, the coffin of the Dead Christ, followed by the Car of the Lady of Sorrows, carried by 8 people, parade through the city.
Then come the figures representing the Cyreneans, who have heavy chains locked at their feet and carry a wooden cross. Other important figures are the Veronica, the Maddalena, and the Three Crying Marys.
Once arrived in Libertà Square, the brotherhoods gathers around the coffin of Christ, around which they form a heart shape figure while singing Miserere.
Then, the parade continues its route and arrives at the Mother Church, where it sings Stabat Mater. Once the procession is concluded, a big bread is shared among all participants.
We kindly recommend to check the website or the facebook page for any possible change of program
(photo: event's website)


ARE YOU INTERESTED IN EASTER RITUALS?
Look at a selection of Easter rituals and religious celebrations in Italy>>>
Continuously updated list
More Information >>>