Peasant Wedding in Castelrotto (Bolzano)
January 15th, 2023. One of the most fascinating historical reenactments in South Tyrol.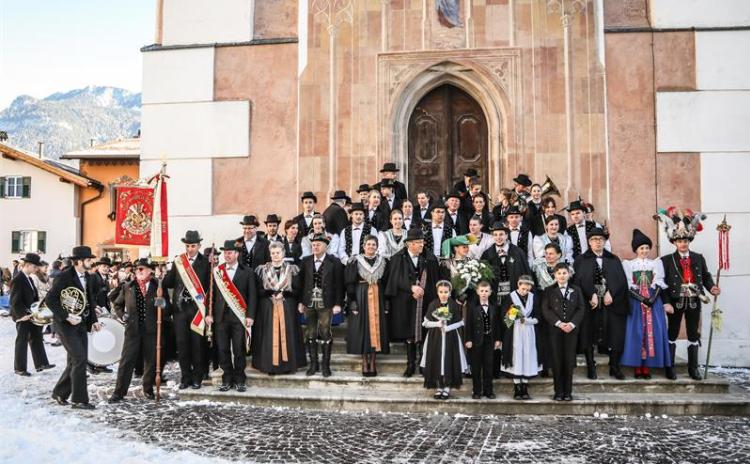 On January, Sunday 15th, 2023, the little town of Castelrotto celebrates The Peasant Wedding an historical reenactment of a traditional 19th-century rural wedding in South Tyrol.
The Peasant Wedding preparation in the past times began way before the wedding ceremony.
The husband-to-be had to wear a hat as a sign of love and carry twelve colored eggs, that symbolized his commitment to marry his fiancée within twelve months.
The bride had to prepare th dowry including: bed sheets, dishes, pots and pans and other useful objects for the home. To show her cooking skills, she had also to invite the groom and his friends to dine at her place.
Finally, on the wedding day, the couple had to go through a series of rituals before the ceremony, while the bride's sisters had to buy a goat.
The Peasant Wedding begins with a parade: the whole village accompanies the bride and the groom on foot, by horse or by sleigh. The parade with the horse-drawn sleighs starts from St. Valentine church and then proceeds to the historic center of Castelrotto.
The wedding guests distinguish themselves by their clothing: married women have their hair tied back at the nape of their necks, little girls wear white dresses, while little boys wear black loden capes and chenille shirts. The master of ceremonies has a big hat with black and white ostrich feathers. Everyone wears original traditional clothes.
The parade accompanies the couple to the wedding banquet, where the traditional wedding cake, the Hoazetkuchl, is served. It is also possible to taste typical Tyrolean food (like Knödel, Goulash and Krapfen) in restaurants and Stuben.
Please control the website>>> or the Facebook page>>> to be updated on possbile changes.

(Cover photo: Castelrotto website)
——
WHAT TO DO AFTER THE WEDDING?
It is an opportunity to enjoy traditional food and wines>>>
More Information >>>