Saint Rainerius's Luminara and Palio – Pisa
16-17 June. The whole city illuminated by 100.000 small lamps. Fireworks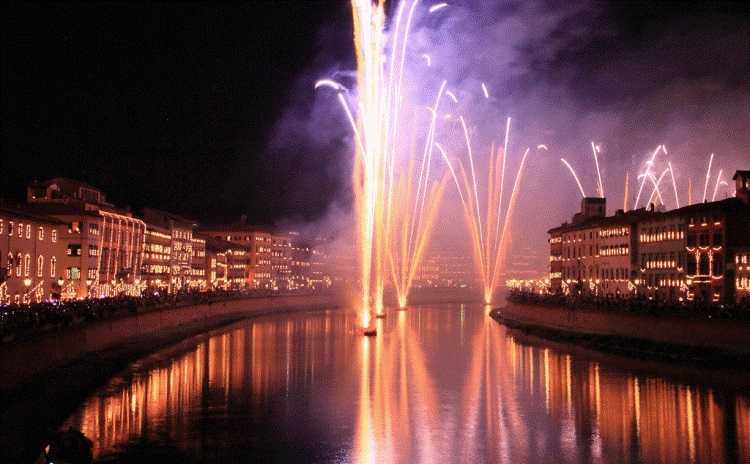 On June 16h at night and on June 17, the day of the patron saint Saint Raineri, the city of Pisa celebrates Saint Raineri's Luminara and Palio
The ancient tradition traces back to March 25, 1688, when Cosmo III de Medici decided to put Raineri Scaccieri's urn, passed away in 1160, in the chapel of the Dome of Pisa.
The event was turned into a celebration and the whole city is illuminated by 100.000 small lamps (lampanini) put on wood frames called linen (biancheria) all around the buildings, churches and towers along the Lungarno and in Pisa. The atmosphere is fascinating and unusual.
This kind of illumination was actually a town tradition already during the fifteenth century.
Around 11:30 pm, the event ends with a firework display.
On June 17th, on Saint Raineri's day, takes place the Palio, dating back to 1164. The Palio is a row competition in the Arno river where four crews representing the four historical districts of Pisa (San Francesco, San Martino, Santa Maria, Sant'Antonio) challenge one another. The competition is preceded by a historical parade along Lungarno.
See also the facebook page of the event

AND AFTER THE EVENT?
See other events and places to visit in Tuscany>>>
And why not taste the traditional food of Tuscany>>> and its excellent wines>>>
(photos: Wikipedia)
More Information >>>