Saint Rainerius's Luminara – Pisa
Every year, on June 16, light show on Lungarno's buildings.
Saint Rainerius's Luminara is a city feast taking place every year on June 16 at night, the day before Saint Rainerius's day, patron saint of the city of Pisa.
The ancient tradition traces back to March 25, 1688, when Cosmo III de Medici decided to put Rainerius Scaccieri's urn, passed away in 1161, in the chapel of the Dome of Pisa.
The event was turned into a celebration and the whole city was illuminated for the occasion. From the nineteenth century, it was called Luminara.
This kind of illumination was actually a town tradition already during the fifteenth century.
Luminara is made up of 100.000 small lamps (lampanini) put on wood frames called linen (biancheria) all around the building, churches and towers along the Lungarno and in Pisa. The atmosphere is fascinating and unusual.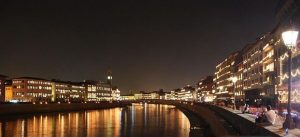 Around 11:30 pm, the event ends with a firework display.
(photos: Wikipedia and the official website)
Go to the website Saint Rainerius's Luminara – Pisa