Lanterna – The Lighthouse of Genoa – Genoa
Discover Genoa history and enjoy the breathtaking view of the sea.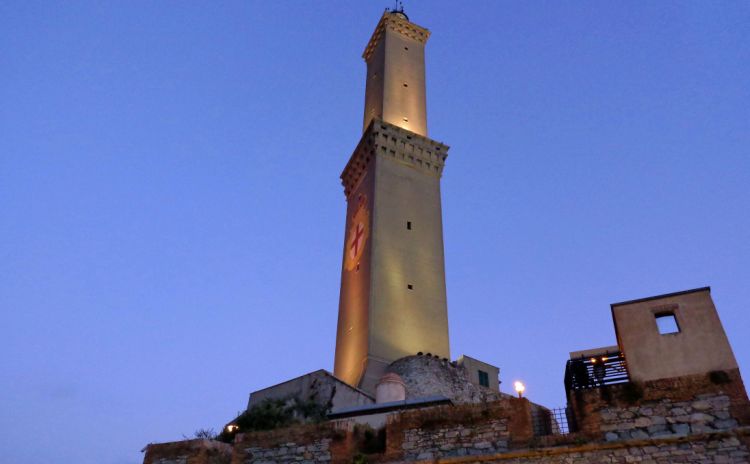 From Friday to Sunday it is possible to visit the Lighthouse of Genoa, commonly known as Lanterna, is the landmark of the city of Genoa.
The Lighthouse of Genoa has been built in 1128 on the top of Capo di Faro (Lighthouse Cape), where people used to light bonfires to serve as a navigational aid for sailors. The Lighthouse served a dual purpose: as a warning signal and as a fortification.
In the Middle Ages, it was isolated from the city walls and only in the 17th Century, it became part of the defensive walls.
In 1340 the coat of arms of the city (a red cross on a white background) was painted on the lower part of the tower.
The Lanterna has been operating for almost 9 centuries and is the official lighthouse of the Port of Genoa. It is the most important lighthouse in Italy and the only one with a lighthouse keeper.
Its light can be seen from a distance of 50 kilometers.
At 249 feet (76 m) it is the tallest lighthouse of the Mediterranean. Considered as a whole with the natural rock on which it stands, as it is commonly perceived and represented, its height is 383 feet (117 m). It is also the world's third oldest lighthouse still in use.
It is constructed in two square portions, each one capped by a terrace; the whole structure is crowned by a lantern from which the light is shone.
Only the first 172 steps are open to the public. It is not possible to reach the top of the lighthouse because its upper part is under military control.
The Lanterna can be reached only on foot through the "Lanterna promenade", a 800-meter path, in part on the 17th Century walls.
Lanterna promenade is part of Lanterna Park and is open to the public every day.
It is also possible to visit the modern and technological Multimedia Museum, located inside the Savoy fortifications built in 1830.
Lanterna fortifications, the lighthouse, the promenade and the park are open on Saturdays, Sundays and holidays from 2.30 PM to 6.30 PM. Last admission at 6 PM
USEFUL INFORMATION
For the opening hours visit the website>>>
Visits canceled in case of bad weather
Limited admissions, booking recommended online>>>
Duration of the visit about 30 minutes.
It is recommended to wear a safety mask and to keep an interpersonal distance of at least 1 meter.
Can't you go now to visit the Genoa LIghthouse? Take advantage of its VIRTUAL TOUR  >>>