West Liguria cycle path – province of Imperia
24 kilometers overlooking the sea to cycle, walk to discover the Ligurian territory.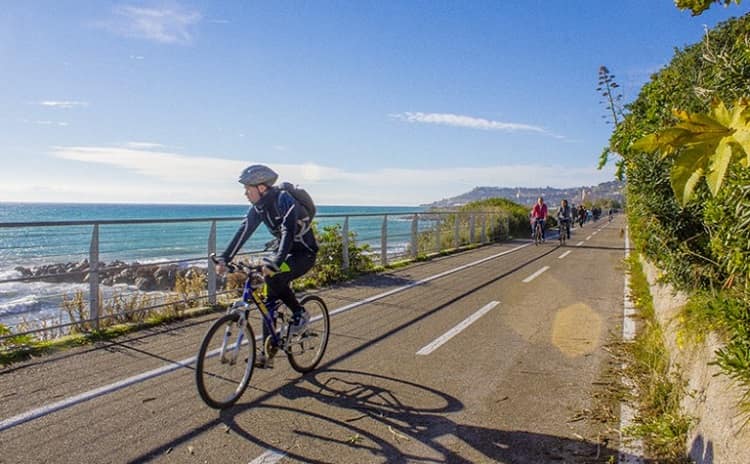 The West Liguria cycle path is a 24-kilometer foot cycle route overlooking the sea. It is immersed in the nature of the Flower Riviera and winds along the seashore, alternating tunnels and viaducts and crossing coastal towns.
It is said to be the longest cycle path by the sea in Europe.
The cycle path was created on the former railway line Genoa-Ventimiglia , in the stretch between San Lorenzo al Mare and Ospedaletti.
The track is straight, completely asphalted with three lanes, two for bikes, and one for pedestrians.
The Ponente Ligure Cycle Path crosses 8 municipalities all in the province of Imperia, San Lorenzo al Mare, Costarainera, Cipressa, Santo Stefano al Mare. Riva Ligure, Arma di Taggia, Sanremo and Ospedaletti.
It starts from San Lorenzo al Mare, a small village protected behind the mountains with its colorful houses owned by the fishermen. Through a tunnel at the end of the village, it leads straight into Aregai di Cipressa, passing through the Ligurian hinterland territories of Cipressa and Costarainera and, through another tunnel, proceeds towards Santo Stefano al Mare.
By cutting fields and narrow streets that form the watershed between the historic center and the surrounding areas, the path reaches Riva Ligure.
The route then enters the heart of Arma di Taggia, the seaside part of the municipality of Taggia. Then it continues to Sanremo, famous for its flowers, the Casino, sports events such as the Milan-Sanremo, and the Italian Song Festival.
In this part, the cycle path overlooks the sea shaded by tall palm trees placed here by the Empress of Russia Maria Alexandrovna.
There are many cultural and historical sites to admire such as the Alfano gardens.
The cycle path reaches Ospedaletti passing through the long Capo Nero tunnel inaugurated in 2014, known for the Milan-San Remo bike race.

CURIOSITY
In 2011 the cycle path won the "European Greenways Award".
The Milan-San Remo, the most important Italian bike race, is taking place in March. and ends very close to the historic Royal Hotel Sanremo.
The Sanremo Italian Song Festival is taking place every year in February

A SELECTION OF CYCLE ROUTES
If you like cycling, check out other cycle routes we have selected for you>>>
Cover photo: Riva Ligure
Photos from the official site
More Information >>>