Historical Carnival and the Battle of Oranges – Ivrea
Historical re-enactments and the famous Battle of Oranges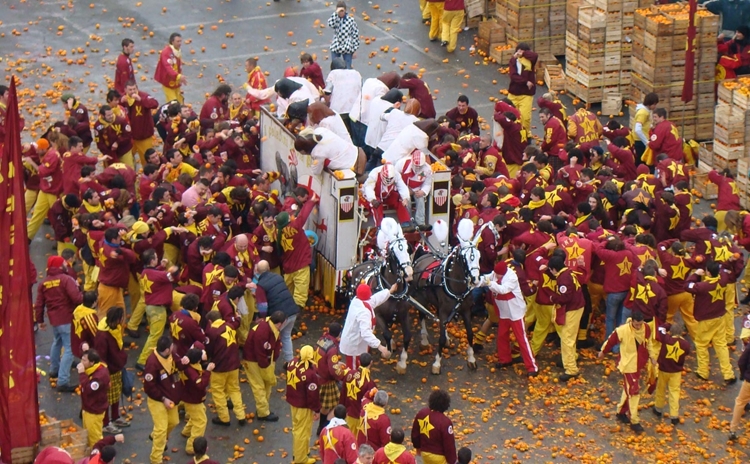 From February 16th to 21st, 2023 is taking place the Ivrea Historical Carnival so famous also because it includes the Battle of Oranges
The Ivrea Historical Carnival is the commemoration of the popular rebellion against the Baron of Ivrea who reduced to hungry the city. The cause of the revolt was the refusal of a miller's daughter to respect the jus primae noctis.
This Historical Carnival in Ivrea is also so famous because of the "Battle of Oranges" taking place on Sunday, Monday, and Tuesday afternoon.

The main character of Carnival is the heroine, the Miller.
But many other characters and rituals are put on stage.
On Thursday the Mayor of the city delivers his command power to the General who arrives in the City Hall with the Ensigns, Pifferi and Drums, and all of his General Staff (Napoleonic period), composed of officials by horse, who since 1800 have the task to assure the execution of the celebration.
Other historical characters are the Sostituto Gran Cancelliere, the Podestà (guarantor of the citizens' freedom), the Vivandiere, and the Corteo with the Districts' Flags.
On the same day, citizens and visitors are invited to wear the Berretto Frigio, a red hat with a sock shape that symbolizes participation in the revolt and that avoids being the target of the Oranges Battle.
On Saturday, the presentation of the Miller's escort to the General, children's celebration, presentation of the different teams of Aranceri (people who throw oranges) through the streets, and of the charming miller to the city. Historical parade of the Aranceri teams. Fire show.
On Sunday, a historical parade, and in the afternoon the first Battle of Oranges with a jury observing teams in order to decide, on the last day, who is the winner.
Monday the "Pich e Pala Trophy". One man for every team deals with the long shot of the orange toward the City Hall. In the afternoon the second day of the Battle of Oranges,
Tuesday, on Mardi Gras, the last day of the Battle of Oranges. Awards ceremony for wagons and walking teams.
Wednesday. The day after the end of Carnival, "polenta" and cod for everyone.
The program of the Historical Carnival in Ivrea is very rich in events, parades, music, and customs rituals.
Click on the links you'll find at the end of the gallery to see the program in detail.
The Ivrea Historical Carnival has been recognized as an "Italian event of international importance".
USEFUL INFORMATION
See the program >>>
Photos: website and facebook page
——

WHAT TO DO AFTER THE HISTORICAL CARNIVAL?
Have a look at further events or places to visit in Piedmont>>>
And enjoy the typical food>>> and its delicious wines>>>
More Information >>>