Castellana Caves
A fascinating underground experience in the biggest Italian caverns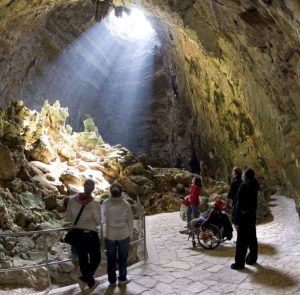 Castellana Caves are underground caverns of karst origins and located in the Municipality of Castellana, near Bari.
Their beauty attracts visitors from all over the world and they are one of the most visited and important attractions in Puglia, also like the towns of Alberobello, Cisternino, Polignano a Mare and Valle D'Itria just a few km from the Caves.
The Caves measure 3.348 meters in length, 122 meters in depth from the surface and have a constant temperature around 17°C.
Visiting the Castellana Caves
Castellana Caves can be visited all year long.
The path of the visit includes two options:
– short path of 1 km that lasts 50 minutes;
– 3 km path that lasts about 2 hours;
The first cavern of the path is the biggest one, called Grave, which is the only space of connection with the exterior. It measures 100 mt in length, 50 m in width and it arrives at 60 m of depth. The visitors pass near the stalactites, stalagmites, curtains, and crystals of different shapes and sizes.
All the caves has a name and the other environments are called, Lupa, Monumenti, Civetta, Madonnina, Altare, Precipizio, Corridoio del Deserto, Colonna rovesciata, Corridoio Rosso, Cupola. All the names are attributed by the first explorers. The last cavern is the Grotta Bianca (White Cave), inspired by the white of the alabaster and it is one of the most beautiful and fascinating cave.
For the most adventurous ones it is also possible to experience the SpeleoNight >>>, a nocturnal visit with lamps and equipment like the first explorers.
Theatre lovers, instead, can book a seat to see Hell in the Cave >>>, aerial theatre representations of Dante's Inferno at the Grave of Castellana Caves: a very unique and fascinating experience
Next to the caves, there is the Speleological Museum Franco Anelli, inaugurated on January 23rd, 2000 (on the occasion of the 62nd anniversary of the karst system discovery), and dedicated to the speleologist of Lodi Franco Anelli (1899 – 1977) who discovered the Caves. The Group Puglia Grotte, a speleological association in Castellana founded in 1971 manages the structure on behalf of the corporate Grotte di Castellana.
The building that hosts the Museum was projected in 1952 by the architect Pietro Favia (1895 – 1972). The Museum is not only a tourist attraction but also a point of reference for the speleological research in Puglia. In fact, it hosts the Speleological Documentation Centre in Puglia Franco Orogino of the Federazione Speleologica Pugliese.
USEFUL INFORMATION
See the updated opening hours for Castellana Caves' visits >>>
Entrance with a fee
Booking can be purchased online>>>
It is recommended to wear a safety mask and to keep an interpersonal distance of at least 1 meter.

Photos: from official website, facebook page and press office of Grotte di Castellana  
More Information >>>