Isole che Parlano (Talking islands) Festival – Palau
September 7-13, 2020 International Festival combining contemporary culture with Sardinian music and tradition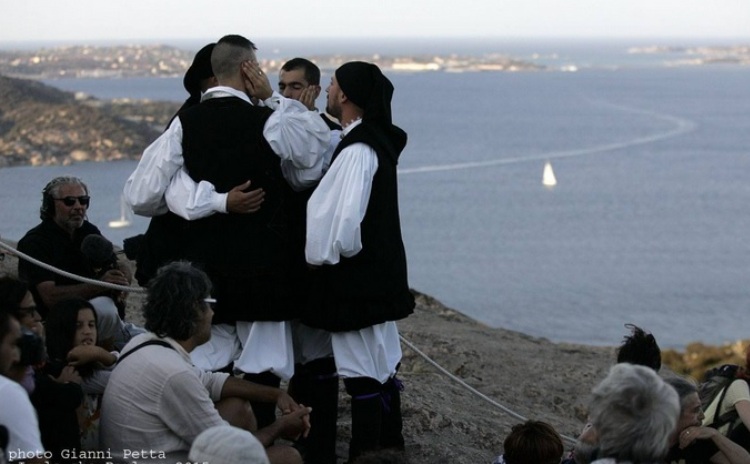 Isole che Parlano (Talking Islands), celebrating its 24th anniversary in 2020, is an international festival that combines contemporary avant-garde movements with traditional Sardinian music and culture.
The festival is organized in Northern Sardinia, in Palau and surroundings from September 7th to September 13th, 2020, offering music, theatre, visual arts: a program full of original events, concerts, meetings, workshops for children, photo exhibitions…
The concerts and the events take place in different archaeological sites (holy wells, tombs of the giants), natural and cultural areas and also beaches
The festival mix of culture, environment, archaeology offers a cultural event with a social model based on meeting, diversity, tollerance and gives value the social function of making arts.
First organized in 1996, Isole che Parlano festival is created and directed by Associazione Sarditudine. The goal of the association is to spread traditional Sardinian culture and values in a creative way, mixing them with contemporary culture in order to promote a sense of solidarity, tolerance and community and to emphasize the social role of art.
(Photos by Gianni Petta, taken from the website of the event – 2015 and 2016 editions / Cover photo: Tenores alla Roccia dell'Orso)

PREVIOUS MUSIC EVENTS IN AUGUST IN SARDINIA
– "Time in Jazz" – Northern Sardinia, from August 9th to 16th 2020. Created by Paolo Fresu >>>
– "Narcao Blues" International blues festival, Southern Sardinia from August 26th to 29th 2020, In the same area of Sant'Anna Arresi >>>
– "Ai confini tra Sardegna e Jazz" (On the border between Sardinia and jazz), Southern Sardinia, from August 31st to September 6th 2020 Close to Narcao the Sant'Anna Arresi festival >>>
More Information >>>