The Ancient Ships – Pisa
30 Roman ships and their cargo perfectly preserved.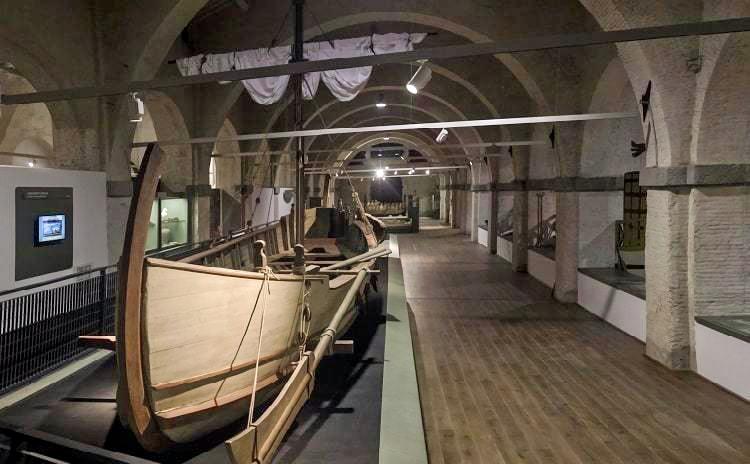 The Museum of Ancient Ships is located in the rooms and aisles of the Medicean Arsenals in Pisa, and represents an archaeological site of exceptional value exposing around thirty ships from the Roman period.
The 30 ships exposed sank due to nine disastrous floods that occurred between the second century BC. and the seventh century AD.
These were cargo ships and riverboats, which were perfectly preserved and, along with the shipwrecks, a large amount of tools were also found which usually are perishable, such as wood, ropes, baskets, fishing tools, utensils and the proofs of the life on board.
It was also possible to recover a large part of the cargo of commercial products contained in amphorae and vases. This exceptional discovery has even made think of of a maritime Pompeii.
The exhibition route of the museum is divided into 8 sections:
– The city between the two rivers
– Earth and waters
– The fury of waters
– Navalia
– Ships
– Trade
– Navigation
– Life on board
USEFUL INFORMATION
Opening hours: Friday 3.30pm-6.30pm. Saturday and Sunday 10.30am-6.30pm
From june to september: Friday 3.30pm-6.30pm. Saturday and Sunday 10.30am-8.30pm
Entrance with a fee
Free for children up to 6 years
For information please call + 39 050 8057880 / +39 050 47029 or  send an email>>>
It is recommended to wear a safety mask and to keep an interpersonal distance of at least 1 meter.
Closing days
Every Monday
December 25th – January 1st
Easter Sunday
April 25th – May 1st – August 15th
Visit also the Facebook page of the museum
(Photos from the Press Office of the museum)
DO YOU WANT TO KNOW FURTHER INTERESTING MUSEUMS?
See a selection of Theme Museums throughout Italy>>>
More Information >>>