Chianti Sculpture Park – Pievasciata
An "art garden" considered one of the best by National Geographic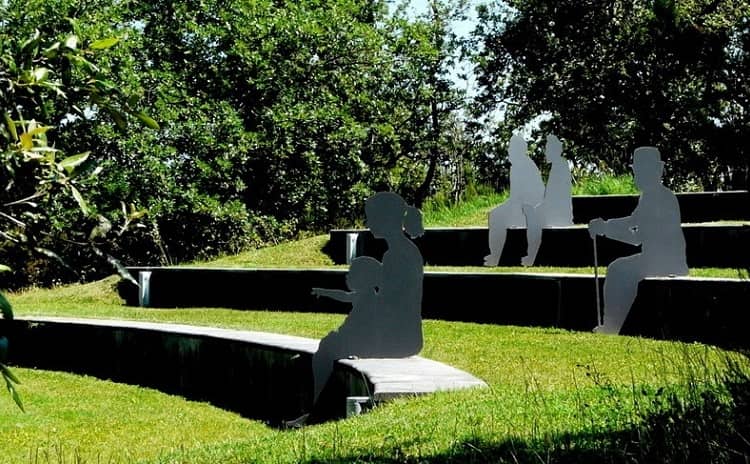 About 10 km north of Siena in the heart of the Chianti area, Pievasciata di Castelnuovo Berardenga hosts a beautiful permanent exhibition of contemporary art: the Chianti Sculpture Park, founded in 2004 on the initiative of Piero and Rosalba Giadrossis, art gallerists in Trieste.
The Chianti Sculpture Park is an "art garden" extending over 7 hectares of a wild wood of oaks, holm oaks and chestnuts. So beautiful that National Geographic in 2014 named it one of the ten most beautiful parks in the world,
The sculptures are located in a fascinating path of about 1 km in which 27 internationally renowned artists from all 5 continents have created impressive works of contemporary art.
Each sculpture is site-specific: that means that the artist first visited the area, choose his preferred location before proposing his sculpture.
The result is that the works and the places, the sounds, the colors, the light and every other stretch of life in the forest are in total and natural harmony. The materials employed are varied, ranging from bronze to iron, from granite to marble, from glass to neon.
"In the Park there are subjects, materials and styles differences", wrote the art historian Brenda Moore McCann in the introduction to the catalog, "but the majority of the sculptures show a remarkable sensitivity to the surrounding natural environment with which is integrated perfectly. "
In July and August, the Park Amphitheater hosts concerts of classical music, jazz, opera, tango and much more.
The park attracts thousands of visitors from all over the world every year and many publications describe it as one of the most brilliant examples of environmental art.
It is very useful to download the Park app which helps visitors have a self-guided tour.
Opening hours: everyday from 10am > 8pm
Entrance with a fee
For information about the guided tours please send an email>>>
Photos from the Facebook page of the park
________
What other artistic parks are there in Tuscany that you can visit?
Follow the link and discover parks and other unusual places to visit>>>
More Information >>>