Good Friday in Vallata
April 14-15, 2022. Since 1541, one of the most suggestive rites of the Holy Week in Southern Italy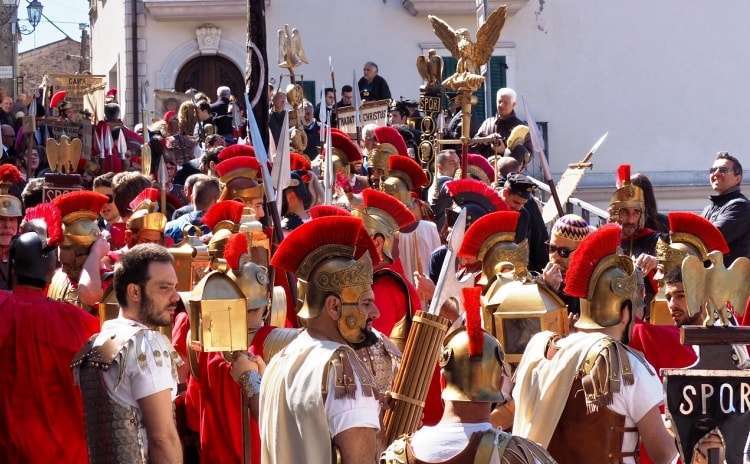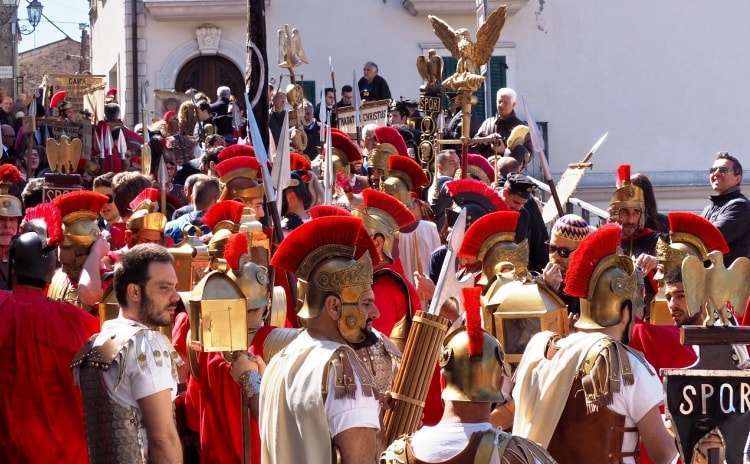 On April 14 and 15, 2022, Vallata, in Irpinia hosts traditionnaly the centuries-old rite of Good Friday in Vallata, one of the most suggestive and Ancient Eastern rites of Southern Italy.
The religious representation sees the parade of 200 Roman centurions, the seventeenth-century canvas, the "mysteries" and Metastasio's Passio Christi cantors and it takes place since 1541, which means since when the Jewish community converted to Christianism.
The first photos were taken in 1928.
200 figurants participate in the Procession walking in rhythm to the music of trumpet and drum, which conveys a mysterious atmosphere.
According to the tradition, youngsters interpret Roman soldiers, lictors or centurions, challenging a very tardive Spring in a village at an 870 m/asl.
Also the so-called hooded "Mysteries" parade along with seventeenth-century canvas representing the Life and Death of Christ.
"Cantors" in groups of five or six, sing Metastasio's "Passion of Jesus Christ", which were preserved orally or in uncertain texts contaminated by dialects and almost incomprehensible for most of the bystanders. The procession ends with the mayor and the village doctors bringing over the bier of dead Christ and the Sorrowful Mother surrounded by little girls in mourning.
Centuries-old Good Friday and Dead Christ procession in Vallata is preceded the day before at dusk by the foot Washing and the suggestive "aux flambeaux" Procession on Good Thursday (18 April) representing the arrest, the condemnation and flagellation of Jesus Christ.
The event was signalled by Comitato Venerdì Santo Vallata.
cvsvallata[at]live.it
tel. +39 349 7480255
(photos from the website)

More Information >>>