Good Friday in Vallata
April 6-7, 2023. Since 1541, one of the most suggestive Holy Week rites in Southern Italy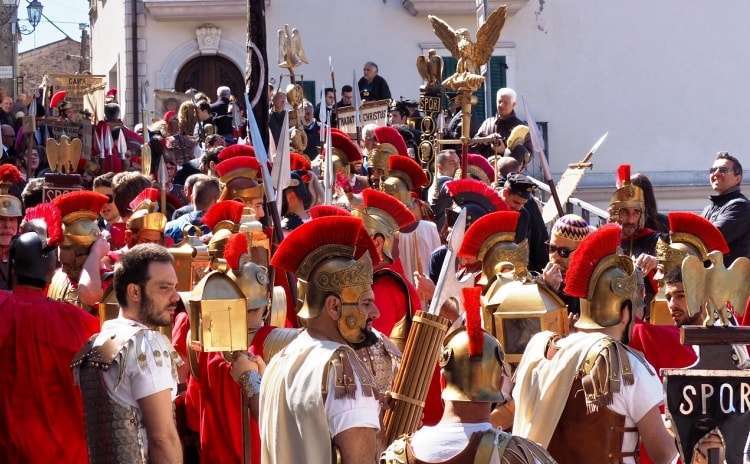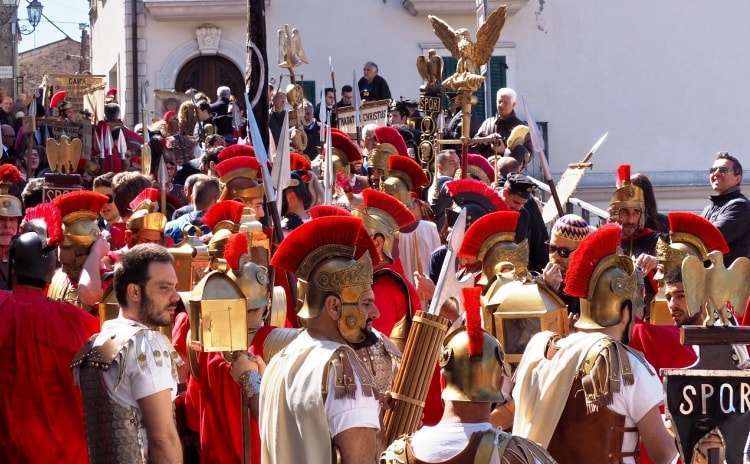 On April Thursday the 6th and Friday the 7th, 2023, Vallata, in Irpinia hosts traditionnaly the centuries-old rite of Good Friday, one of the most suggestive and Ancient Eastern rites of Southern Italy.
On Holy Thursday at dusk, it is celebrated the religious function representing the washing of the feet and then the capture, condemnation and flagellation of Christ with the "aux torch" procession.
Good Friday is the day on which the historic Procession of the Dead Christ takes place. The traditional and spectacular religious representation shows a parade of 200 Roman centurions, of the "mysteries", and of the singers of Metastasio's Passio Christi. It is a rite that has been taking place since at least 1541, when the town's rich Jewish community converted to Christianity. The first photographs date back to 1928.
The gait of the 200 centurions is very suggestive, their step cadenced by a rhythmic sound of trumpet and drum. Traditionally young people interpret Roman soldiers in lictor or centurion costume, challenging the cold of a spring that is almost always late in a town that is 870 meters above sea level.
Then there is the so-called "Mysteries" parade when eighteenth-century canvases representing scenes from the life and death of Christ are carried in procession by the "hooded".
Then the "singers", in groups of five or six, sing the verses of the "Passion of Jesus Christ" by Pietro Metastasio, for years handed down orally or through uncertain writings, with a strong dialectal contamination that makes them incomprehensible to the majority of those present.
The procession of Vallata's Good Friday ends with the Dead Christ, escorted by the mayor and the town's doctors, and Our Lady of Sorrows surrounded by little girls with mourning flags.
Recommended to check on the website>>> or on the facebook page>>> for any changes to the program that may also occur near the event.
Event reported by the Vallata Good Friday Committee
cvsvallata[at]live.it
tel. 349 7480255
(photo by Alfredo Cesarano from the official website of the event)
——
ARE YOU INTERESTED IN EASTER RITES?
Look at a selection of Easter rites throughout Italy>>>
Continuously updated list
More Information >>>