Nativity Scene Museum – Dalmine
Over 900 cribs and Christmas objects. From the 1700s to the early 1900s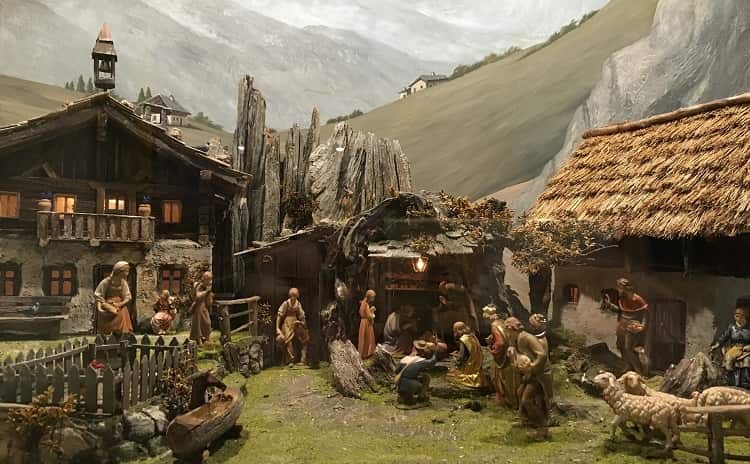 The Nativity Scene Museum is located in Dalmine in the province of Bergamo and collects, preserves and enhances a world unique collection of over 900 cribs of different ages, provenance, dimensions and materials.
The Nativity Scenes in the museum date back to the eighteenth, nineteenth and early twentieth centuries and represent the variety of styles, materials and types of creations from any part of Italy.
The eighteenth-century Neapolitan crib, the golden century of the artistic nativity scene, are located on the first floor of the museum. The most impressive is a 20 square meters creation by the famous artist Antonio Greco, with more than 130 statues making up 3 large scenes and numerous small everyday life sketches.
Another majestic nativity scene has a biblical setting, with a meticulous reenactment of the Census of Quirinius wanted by Herod and linked to the birth of Jesus.
The Bergamo nativity scene also has an important place in the collection, with the reconstruction of a workshop that used to make plaster figures and which actually existed in Bergamo at the end of the nineteenth century.
Not only ancient examples, but many works of contemporary crib art from several schools are also exhibited, such as the Sicilian, Apulian, Sardinian, Ligurian and Trentino schools. Also on display are nativity scenes from the five continents, with handicrafts from different countries of the world.
A curiosity: a precious eighteenth-century plaster crib, the work of the Genoese sculptor Garaventa, also presents the figure of the customer in prayer.
The Nativity Scene Museum also hosts a specialized library with a vast archive, and a rich collection of rare paper nativity scenes, Christmas cards and postcards, holy cards, dating from 1800 to the present day, as well as postage stamps, fairy tales and Christmas stories, Liebig pictures, telephone cards, a total of over 10,000 pieces.
Furthermore, a multimedia fund with videos and small films, slides, vhs, CDs and DVDs, and a musical fund with a collection of Christmas music, scores, vinyls, cassettes and CDs. All inherent to Christmas and the crib, its traditions, its history, its uses and customs.
The Nativity Scene Museum was founded in 1974 by Don Giacomo Piazzoli (1920-1988), the first priest of Brembo, a passionate collector and crib maker.

USEFUL INFORMATION
Opening hours: afternoon
It is recommended to wear a safety mask and to keep an interpersonal distance of at least 1 meter.
NOTE
ItalybyEvents is not responsible for changes in dates and programs.
Check the website for opening days, tickets, reductions… and also the Facebook page to be updated>>>
Photo from the Facebook page of the museum
——

WILL YOU SPEND YOUR CHRISTMAS HOLIDAYS IN ITALY?
See a selection of further Christmas events in Italy >>>
Or discover further curious museums to visit all year round>>>
More Information >>>