Walser House Museum – Macugnaga
A well-preserved Walser house from 1600s to learn about its history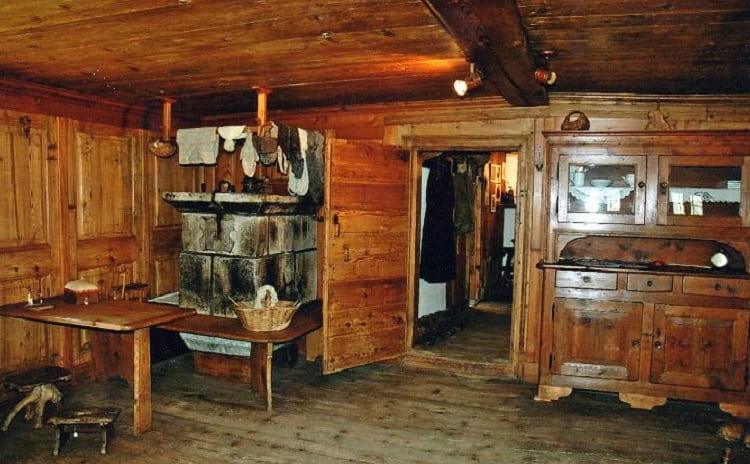 The Walser House Museum in Borca, a small village close to Macugnaga, is located in the parish house of the district.
The Walser House Museum was founded in 1982 with the aim of collecting, cataloging and preserving the objects of the daily life of the Walser community in Macugnaga.
The house, a typical example of wooden Walser architecture, dates back to the 17th century and is practically intact. It exhibits over 650 artifacts dating back to between the 14th and 20th centuries and develops on three levels:
– the basement, once a cellar and now a thematic room, hosts a collection of old prints and photographs, and the temporary exhibitions organized by the Museum;
– the ground floor has three rooms: the entrance, the fireplace-kitchen, and the "stobu" which is the most elaborate and important room in the house. In the stobu stands the small oven, a large stove built by assembling rough and bush-hammered soapstone slabs; for many centuries the oven, present in every Walser house, represented the only method of heating.
– the upper floor is also divided into three rooms: the room of traditional crafts; the one dedicated to bread making; and a room where the documents of the Mining Company and other valuable objects are kept.
Who are the Walsers?
The Walser are a mountain population of Germanic origin, which still inhabits several Alpine regions today, especially around Monte Rosa. They migrated around the eighth century from upper Valais and then, during the twelfth-thirteenth century, they settled in various locations in the Alps, in Italy, Switzerland, Liechtenstein, Austria and France. In Italy there are Walser communities in Piedmont (in Valsesia and Ossola) and in Aosta Valley (in Lys valley and formerly in the upper Ayas valley).
The Walser language is a variant of the South German dialect, very similar to the Archaic Swiss German dialect. There are three known variants of the language, known as titsch: that of Gressoney-Saint-Jean and La-Trinité, the töitschu of Issime and the titzschu of Alagna Valsesia and Rimella in Valsesia.
The Walsers led an almost isolated life, very simple and devoted to self-subsistent lifestyle.
With the few working materials at their disposal, stone, wood, heavy metals, they could create the tools necessary for their daily work and family life.
The predominant material is wood, mainly larch. The Walsers were skilled carvers, sculptors, wood turners and clever assemblers. Sometimes even the nails were made of wood and each family benefited from the great manual skills acquired by a family member.
Today the Walser communities of the entire Alpine arc gather every three years in a different colony for their traditional meeting called Walsertreffen.
USEFUL INFORMATION
Opening hours
Opening hours change during the year>>>
Reservation is required. Please call +39 347.984.2329 or send a mail >>>
Entrance fee
Free for children up to 6 years

DO YOU WANT TO KNOW FURTHER INTERESTING MUSEUMS?
See a selection of Theme Museums throughout Italy>>>
More Information >>>