Byssus Museum – Sant'Antioco
Works made with "sea silk" to discover the culture and history of byssus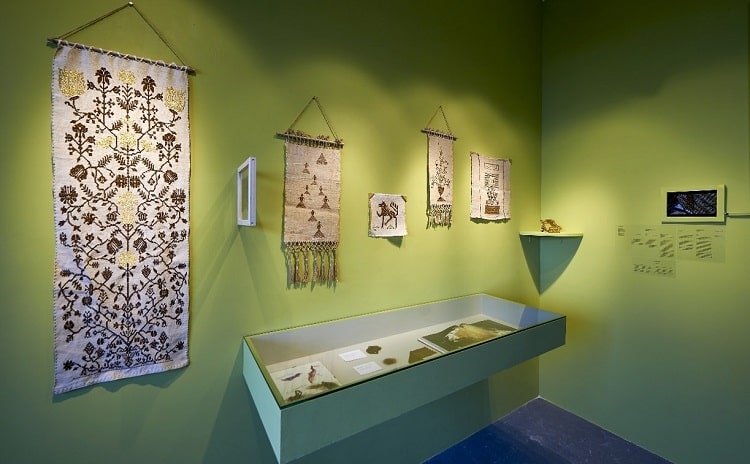 The Byssus Museum is located in the municipality of Sant'Antioco, on the homonymous island in southwestern Sardinia. It was created and is managed by Chiara Vigo, the only weaver in the world still performing this art.
What is the byssus? It is a precious fiber obtained from Pinna Nobilis (commonly noble pen shell or fan mussel), a large Mediterranean bivalve mollusc that can live up to 25 years and reach over one meter of shell length.
From this bivalve, the largest in the Mediterranean sea, a filament with golden reflections is collected, so precious that it is defined as "sea silk". It was once employed to weave sacred vestments and the most sumptuous clothes of notables.
In Italy there were two centers where byssus was traditionally produced: the area of ​​Taranto and Sant'Antioco island. Today there is only one person in the world capable of producing it entirely.
it is precisely the Master Chiara Vigo, who lives in Sant'Antioco. From the age of 14 Chiara immersed herself in the lagoon of the island to collect the byssus from the bottom of the sea without damaging the animals, and weave it according to tradition.
The pen shell, this giant mussel, anchors itself to the bottom and remains in a vertical position thanks to a very strong, rough and uncultivated beard. It is this beard that once worked and bleached becomes byssus, shining like gold, soft and strong. From 300 grams of raw fiber, 30 pure yarn are obtained and can be used for weaving.
Legends say that it was Princess Berenice of Chaldea, in exile in Sant'Antioco for falling in love with the emperor Tito, who taught how to weave the sea silk.
Chiara Vigo is the custodian of the ancient knowledge guarded by her family and she keeps this non-profit knowledge alive. She collects and displays her works in her museum-laboratory with free admission for the centuries-old oath that binds the women of her family not to sell byssus works. The byssus is not sold or bought. Sea silk works can only be donated or received. A Master of byssus lives on offerings.
A visitor of the Byssus Museum commented: "Chiara Vigo is a unique artist. With no compromise and half measures. In her laboratory-museum people can breathe the sea breeze, culture, history and beauty made into art. Beautiful visit, recommended to everyone. "
USEFUL INFORMATION
Open just upon reservation
Free entry
It is recommended to wear a safety mask and to keep an interpersonal distance of at least 1 meter.
You may send an email>>>

Photos from the Facebook page of the museum
IS FASHION YOUR PASSION?
Discover further museums dedicated to fashion throughout Italy. Clothes, but also accessories…>>>
ARE YOU IN SARDINIA?
See what else you can do or visit in this beautiful Italia island>>>
And take the chance to taste its typical food>>> and its good wines>>>
DO YOU WANT TO KNOW FURTHER INTERESTING MUSEUMS?
See a selection of Theme Museums throughout Italy>>>
More Information >>>