Saint Leonhard Horse Ride – Badia
5 November 2023. A traditional feast with horses, folk costumes, and typical Ladin cuisine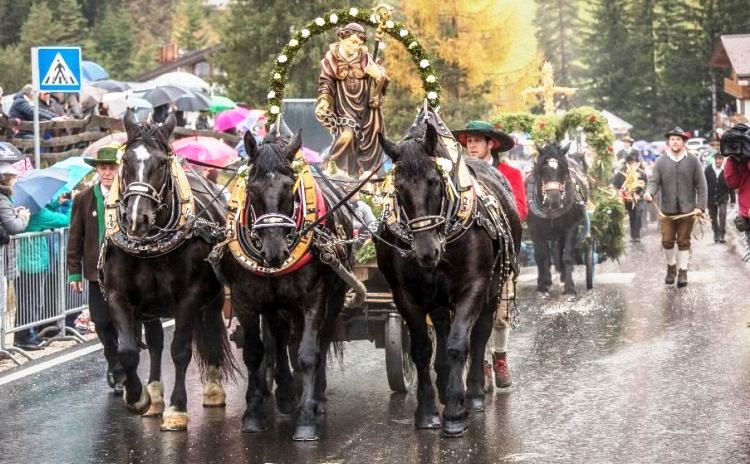 On November 5th, 2023, San Leonardo, a small locality in Badia, usually celebrates its Patron with Saint Leonhard Horse Ride ("Leonardiritt"), a traditional Feast, horse riding, folk costumes and typical Ladin foods
The 23rd edition of the traditional festival revives local traditions and beliefs.
The highlight is the big parade at midmorning: inhabitants wearing folk costumes often horseriding Noriker and Haflinger, pass by with floats and marching bands from San Genesio, "Fodom" and Badia.
Saint Leonhard is considered the patron saint of peasants, craftsmen, horses, and knights. Thus, at the end of the parade, livestock and peasants are given a blessing.
As in any festival in Alto Adige, several gastronomic specialties with traditional Ladin plates from Alto Adige, such as "Tutres" (fried wafers filled with ricotta cheese and potatoes) and "Furtaies (snail-shaped fried sweets)
In the program also chestnut roast, the bands Tiroler Herz, from Poza, Lajen and Badia, as well as the folk dance groups from Val di Fassa and Val Badia.
The festival takes place also in the event of bad weather.
INFORMATION
For information see the website>>>
call +39 0471.836.176 or send an email>>>
AND AFTER THE EVENT?
See other events and places to visit in Trentino Alto Adige>>>
Do you know the typical products of Trentino Alto Adige? Click here>>>
(photos from Cavalcata di St. Leonhard website)
More Information >>>