Valsugana cycle path (province of Trento)
Easy route of 44 km along the Brenta river from Lake Caldonazzo to Tezze di Grigno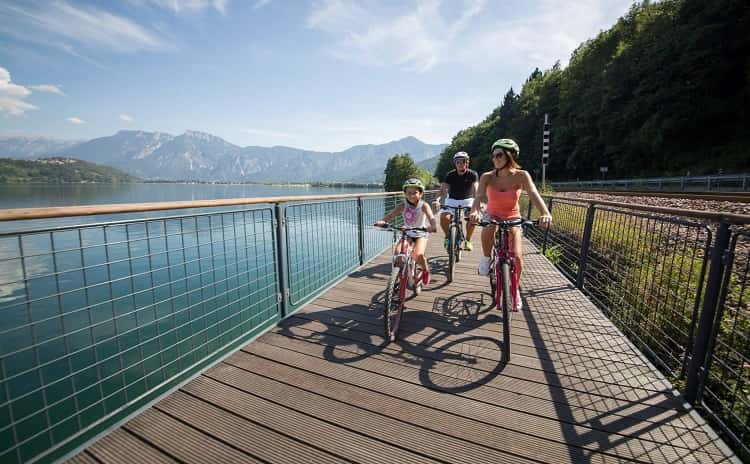 The Valsugana cycle path connects Lake Caldonazzo (in Trentino) to Bassano del Grappa (in Veneto)
In total it is an easy route of 78 km along the Brenta river where culture, history and natural landscapes intertwine between Trentino and Veneto.

IN TRENTINO – 44 km
The Valsugana cycle path in Trentino is 44 km long.
It starts from the municipality of Pergine Valsugana, follows the shores of Lake Caldonazzo, crosses Calceranica al Lago and arrives at Caldonazzo and then goes on among fields, meadows and orchards in the Levico Terme area (*) and heads towards Novaledo until reaching the picturesque center of Borgo Valsugana.
In Borgo Valsugana the cycle path continues along the banks of the Brenta river and slowly the swampy environment around the river turns into woods and fields. The small waterfalls and the Bigonda cave in Selva di Grigno are worth a stop.
In this part the path is almost all downhill.
Once in Tezze, in the south of Grigno, the cycle path goes on in the Veneto region until Bassano del Grappa>>>
Anyone wishing to return from Tezze to Levico Terme, Pergine or Trento can take the Valsugana train on which bikes can also be loaded!
There are many refreshment, rental and bike repair points and also a bike sharing service in Levico Terme, Tezze and Novaledo.
(*) the cycle path does not pass through Levico Terme. Anyone wishing to visit it must make a detour.

AND THEN…
In 2020 the Valsugana Cycle Path obtained the Italian Green Road Award as the greenest cycle path in Italy at the Cosmo Bike Show in Verona.
The Valsugana cycle path is also part of the Via Claudia Augusta which leads from Augusta to Venice and which continues through Primolano to Feltre.
Do you want to reach Bassano del Grappa? Click here>>>
Still feeling like cycling?
Discover a selection of cycle paths and cycle routes in Italy>>>
Photo from the Facebook page of APT Valsugana
More Information >>>