Uncovering the floor of the Siena Cathedral – Siena
August 18-October 18 2023 Siena Cathedral uncovers its magnificent floor.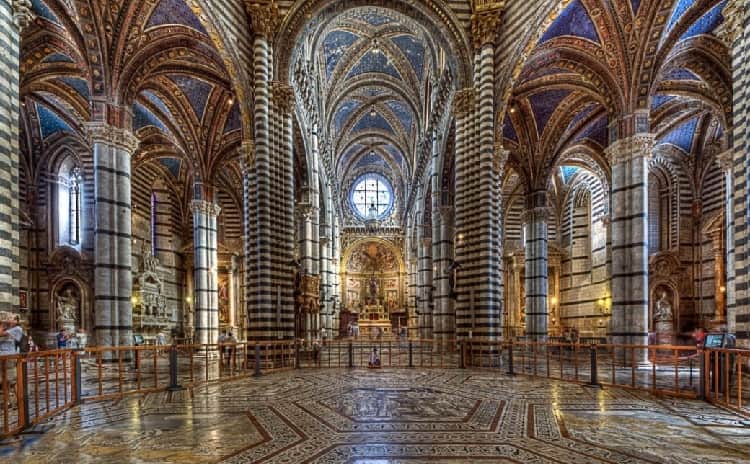 "The most beautiful … great and magnificent … that has ever been made". This is how the Italian painter Giorgio Vasari defined the floor of the Siena Cathedral in 1500.
From August 18th to October 18th 2023  the floor of the Siena Cathedral comes back to light for an extraordinary uncovering offering the chance to admire the fifty-six inlays that compose it, made by important artists, almost all from Siena.
The polychrome marble floor is extraordinary not only for the technique used, but also for the message of the figurations that are a constant invitation to wisdom.
In the naves visitors can see ancient protagonists, disheveled sibyls and authoritative philosophers, while biblical subjects are depicted under the dome, in the presbytery and in the transept.
The floor is the result of a complex program of over 50 scenes and figures created over the centuries, from the fourteenth to the nineteenth century.
The preparatory cardboards were drawn by artists, almost all from Siena, including Sassetta, Domenico di Bartolo, Matteo di Giovanni, Domenico Beccafumi, as well as by the Umbrian painter Pinturicchio, author of the famous panel with the Monte della Sapienza, a symbolic representation of the Virtue as the attainment of inner serenity, "a safe way through the waves" (Wis. 14,3).
The path is coherent and fascinating, with the three naves telling the themes of classical and pagan antiquity, while in the transept and in the choir visitors can admire scenes from Jewish history, from the salvation accomplished and achieved by Christ, always the protagonist. but never represented in the graffiti on the floor.
Visitors can admire the floor in compliance with safety protocols. The services offered include guided tours in various languages.
The uncovering of the floor can be visited from Monday to Saturday from 10am to 7pm and Sunday from 9.30am to 6pm.
USEFUL INFORMATION
Opening hours – During the uncovering of the floor in 2022, visitors can enter from Monday to Saturday from 10am to 7pm and Sunday from 9.30am to 6pm, last entrance half an hour before closing time. Times may vary in conjunction with religious celebrations.
Entrance with a fee.
For information call +39 0577 286300
To know something more about the Siena Cathedral, go to the website>>>
See also the facebook page>>>

Are you in Tuscany? See other events and places to visit>>>
And why not taste the traditional Tuscan food>>>
Photo from the website and Facebook page of the cathedral
More Information >>>