Grotta Azzurra (Blue Grotto) – Capri
One of the most famous attractions of Capri, with an brilliant blue colour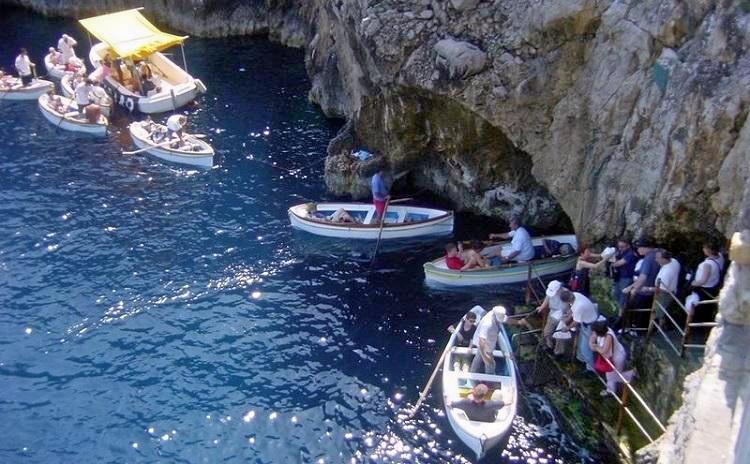 Opening hours:
From April 1st to October 31st, every day from 9 am to 5 pm.
From November 1st to March 31st every day from 9 am to 2 pm.
The Cave can be visited only when sea conditions are favorable.
Entrance with a fee>>>
The ticket is purchased on the site but reservation is MANDATORY on the website>>>
Scattered access to the cave with small rowing boats is limited to a maximum of 20 people every 30 minutes.
_________
The Grotta Azzurra (Blue Grotto) is located on the island of Capri, in the area of Anacapri, in the province of Naples.
It can only be accessed from the sea.
It is one of the most famous attractions of Capri, and its fame is absolutely deserved. Don't miss this natural wonder!
The grotto is a karstic cavity 22 meters deep, 25 meters wide, and about 60 meters long.
The average height of the vault is about 7 meters, up to 14 in the internal areas.
The opening is partially submerged and when the sea is not rough, it is only one meter above the water level. It can be visited using small boats that can carry a maximum of 3-4 visitors and when visitors enter the cave, they have to lie down on the bottom of the boat. This requires the presence of an experienced boatman who, abandoning the oars, pushes the boat by grabbing an iron chain walled up at the entrance.
Its name is due to the brilliant blue colour that pervades the entire cave, produced by the dim light filtering through the entrance. Upon entering, and after having accustomed the view to semi-darkness, visitors are enveloped in a magical atmosphere never seen before.
CURIOSITY Due to the phenomenon of reflection of light, the cave cannot be illuminated if the sea is completely calm. So there is a need for water movement, albeit minimal.
Towards the bottom of the cave, on the left, visitors can see several tunnels both below and above the water level that should connect with the nearby Guarracini Cave. On the right, however, another cavity opens. Its formation is due to the humidity of the air, the dripping of water and continuous thermal variations.
In the southwestern corner there is a platform buried in the sea by the Romans, who used brick debris (opus signum) for its leveling. Next to this area, there are three branches of the gallery, the "Gallery of the Pillars", which go on to the "Hall of Names" so-called for the various signatures left by visitors from the nineteenth and twentieth centuries on the walls. After the Hall of Names, the cave narrows up to the "Corrosion Hall", located in the innermost bowels of the mountain – here the explorable part of the cave ends, which continues through various tunnels that cannot be crossed due to the unbreathable conditions of the air. However, it seems that these tunnels do not communicate with the outside, but rather are a vain attempt by the Romans to seek fresh water.
Excursion with a fee
Opening hours:
– From April 1st to October 31st, every day from 9 am to 5 pm.
– From November 1st to March 31st every day from 9 am to 2 pm.
The grotto can be visited only when sea conditions are favorable.
– Closed on December 25th and January 1st.
Photos from Wikipedia
CC BY-SA 4.0, 
Di Glen Scarborough – CC BY-SA 2.0, 
——-

If you like caves, in the province of Salerno you can visit the Caves of Pertosa-Auletta. They are the largest in Campania. Guided tours by boat and on foot >>>
More Information >>>