Perdòn de Barbana – Grado
Every first Sunday of July. Boat procession from Grado to Barbana Island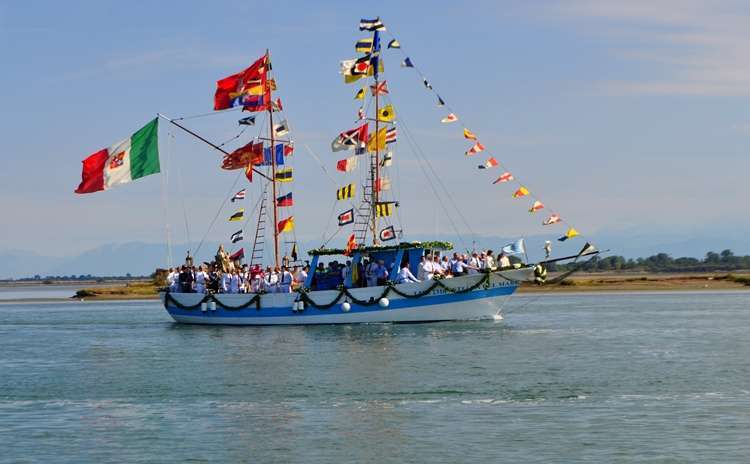 On Sunday, July 2nd, 2023, as for centuries every first Sunday in July, the Perdòn de Barbana. a religious feast and celebration deeply felt by all the inhabitants is celebrated in Grado.
Perdòn de Barbana celebrates when the Grado inhabitants in 1237 promised to Virgin Mary to bring her statue from the Cathedral to the island of Barbana, to thank her if she was able to save them from a terrible plague epidemic.
The celebration starts early in the morning. After a first rite celebrated in the Basilica of Sant'Eufemia, the statue of the Madonna is carried on the shoulder to the port, where it is loaded onto the boat designated as the flagship
At around 9.00 am the procession of festively decorated boats leaves the port and sails into the lagoon until they reach the small island that houses the Sanctuary of Barbana.
Here the statue of the Madonna, accompanied by the town band, is carried in procession on foot from the small port to the church where the bishop celebrates a solemn Mass.
In the early afternoon, the statue of the Madonna is brought back to Grado and the celebration ends with a Te Deum in the Basilica.
Perdòn de Barbana is the main religious tradition of Grado.
For information
telephone +39.0431.898.239
mail >>>

CURIOSITY
Originally, at least one member of each family in Grado had to participate in the procession.

ARE YOU IN GRADO?
Have a look to further places to see or events you can participate in Friuli Venezia Giulia>>>
And take advantage of the opportunity to taste its traditional food>>>
More Information >>>