Silk Museum – Como
The processing of silk from the late 1800s to the early decades of 1900s. From the silkworm to the finished product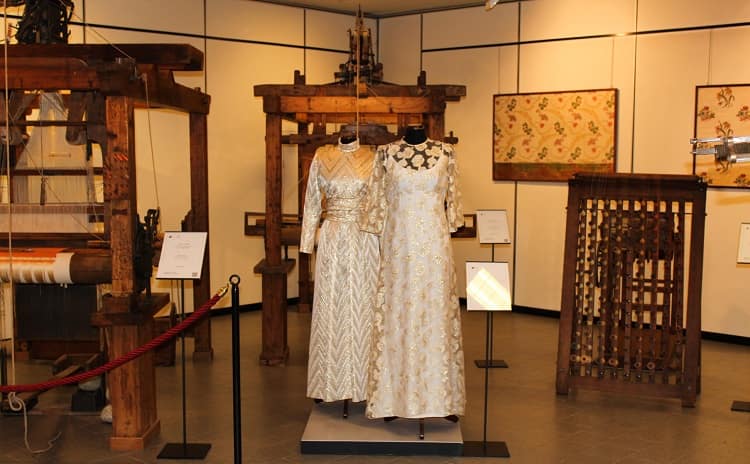 OPEN when LOMBARDY is YELLOW AREA
Opening hours, Thursday to Sunday, 3 pm > 7 pm
Booking is MANDATORY on weekends by calling +39 031 30 31 80 or sending an  email>>>
It is mandatory to wear a safety mask and keep the interpersonal distance of at least 1 meter.
_______
The Silk Museum is located in an area of Como well-known between the mid-nineteenth century and the early twentieth century for its silk processing and its thriving textile companies.
Inaugurated in 1990, the Silk Museum collects evidence of the history of Como's industry and craftsmanship between 1850 and 1950. It exposes machines, objects, weaving notebooks, ancient textile artifacts, modern digital prints and work tools from the textile processes that gave life to the age of silk in Como.
The visiting route develops through 13 rooms covering an area of ​​1000 square meters where visitors discover all the stages of silk processing, from the cultivation of the silkworm to the finishing of the fabric,
The museum also exposes impressive original machinery and a specific work cycle is set up in each room.
The entire Silk Museum is accessible to the disabled and has recently created a specific route for the blind.
In the same building there are:
– a library preserving archives, documents useful for integrating and deepening the permanent exhibition itinerary
– a multipurpose room for events and activities
– an exhibition area that almost always hosts temporary exhibits.
– the "Paolo Carcano" State Technical Industrial Institute of Silk Factory
Admission with a fee >>>
Opening hours:
From Tuesday to Friday from 3 pm > 7 pm
Reservations required for groups
For information and reservations please call +39 031 303 180 or send an email
Photos from the Facebook page of the museum
More Information >>>