Taste Shapes – Lodi
23-25 September 2022. 3 days dedicated to the products of Lodi and Lombardy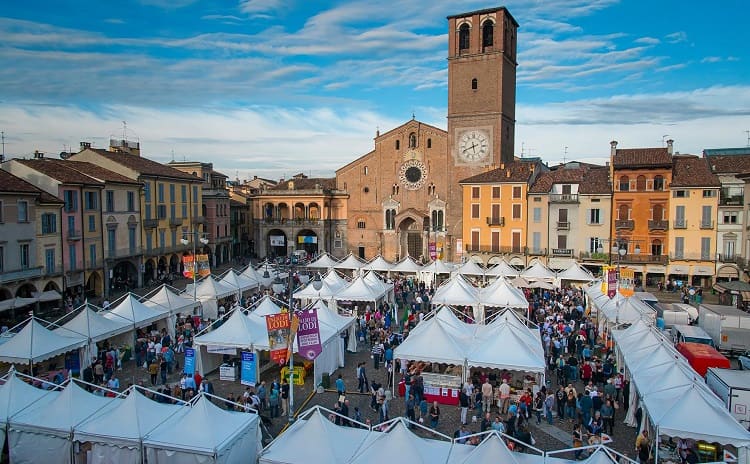 From September 23rd to 25th 2022, Forms of Taste (Forme del Gusto) takes place in Lodi, the Festival of Agri-food Excellence: 3 days dedicated to the food and wine products of Lodi and Lombardy
The festival, which reaches its 10th edition in 2022, is a three-day event dedicated to the food and wine produced in the Lodi area and Lombardy which hosts various market exhibitions between piazza della Vittoria and piazza Broletto.
In program many meetings with food supply chains, workshops with craftsmen, show cooking and guided tours to discover the artistic and historical beauties of Lodi.
INFORMATION
Opening hours: from 9am to 7pm.
Free entry
See also the Facebook page of the event>>>
Photos: Forme del Gusto
The Food of Lodi
The local food of Lodi is made above all of cheeses, the most famous is Grana Padano DOP which in its best production is called Granone Lodigiano and is considered the "ancestor" of all grana cheeses. A curiosity: the Granone Lodigiano was once yellow, as saffron was added to the mix;
The raspadüra – A typical specialty coming from grana cheese is the raspadüra, a shaved cheese obtained by scraping the young grana cheese, cut in half with a special knife. It takes a particular skill for which some are considered true raspadüra "masters". It is usually served as an appetizer or as a side dish to polenta, mushrooms…
The raspadüra is often present in village festivals throughout the province of Pavia.
Turtin – Another specialty of the Lodi area is the Turtìn, a typically autumn appetizer, prepared with fresh goose, duck or turkey blood, which is beaten to prevent coagulation. It is then mixed with butter, cream and milk creating a dough to which parmesan cheese, bread and grated amaretti are added, and then salt, pepper and nutmeg. It is cooked with pork fat and served hot.
(the recipe is taken from Wikipedia)
Do you know the typical products of Lombardy? Click here>>>
More Information >>>