Destra Po Cycleway, in the province of Ferrara
A 124 easy km path along the Po river, towards the sea, in the province of Ferrara.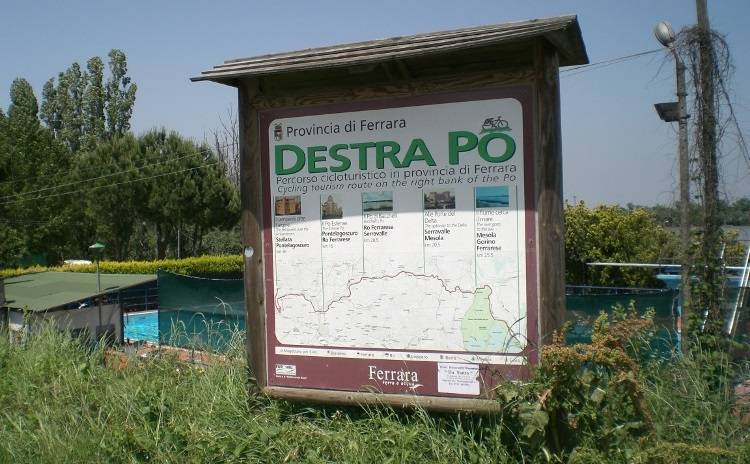 It is one of the longest cycle paths in Italy and runs throughout the province of Ferrara on the right bank of the Po river, from Fortress of Stellata, a charming village at the flood plain among poplar groves, to Gorino Ferrarese on the Adriatic sea.
A 124 kilometer long path almost entirely reserved for bikes, a fascinating itinerary that follows the river towards the sea, on a flat and paved path in the Po Delta, within everyone's reach, including children.
The Destra Po Cycleway crosses unique natural environments (woods, brackish valleys, freshwater valleys, dunes, beaches), ancient villages and prestigious cities of art such as Ferrara.
It is a varied and suggestive route along the last stretch of the "great River of Italy", a place rich in history, culture, gastronomic specialties, literary and cinematographic suggestions, and a nature uncontaminated by tourism. The river delta plunging into the Adriatic sea is a UNESCO World Heritage Site.
The "Destra Po" Cycleway is part of the great 250 m cycle path running along the Lombard stretch of the river and is intertwined with dozens of other paths, offering the chance of endless detours, loops, returns and variations.
Along the 123 km of the Destra Po there are many opportunities to enrich the experience. Here are some:
Visit Ferrara. If visitors decide to extend the route by a few kilometers, they can visit Ferrara, and it's worth it. The city is bike-friendly, by far the most used means of transport. Visit also the Estense Castle, symbol of the city.
Ro Oasis, dedicated to Riccardo Bacchelli and the famous novel Il Mulino del Po. Thickets of willows and poplars, are a refuge for a wealth of wildlife. The countryside, full of hedges and rows of plants, recalls the Bacchellian atmosphere, with the historical reconstruction of the ancient mill.
Po Delta Park. The Po Delta, a UNESCO World Heritage Site, is a complex system of branches with which the River Po flows into the Adriatic sea. A very natural area also rich in numerous human activities perfectly integrated with the environment, from aquaculture to traditional fishing, and an incredible variety of flora and fauna.
photo source: wikipedia
Cycling makes you hungry. What are the typical food and wines of Emilia Romagna?
Click here to find out>>>
Still feeling like cycling?
Discover a selection of cycle paths and bicycle tracks in Italy>>>