Seven Towers Race – Aosta
Sunday, October 23rd, 2022. National 3×4 km relay race in the city center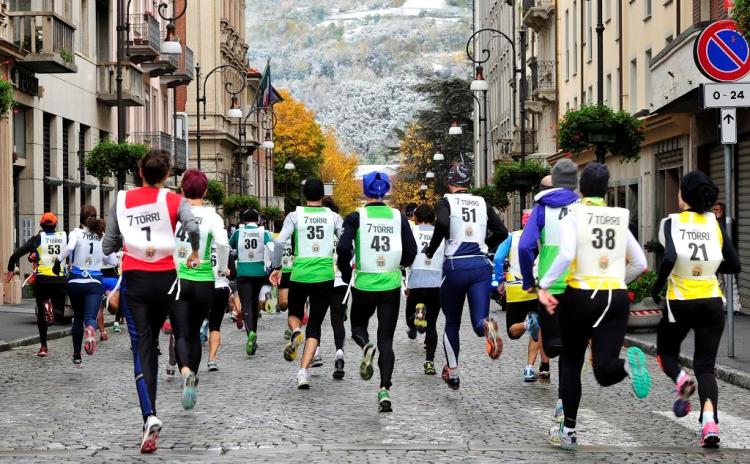 Sunday October 23r, 2022, Aosta hosts the 35th edition of the Seven Towers Race, a national 3×4 km relay that attracts an increasing number of copetitoris and visitors over the years.
The competition is named after 7 of the 20 towers that were erected by the Romans to defend and decorate Augusta Praetoria (Aosta Roman name)'s, and that can be seen along the route.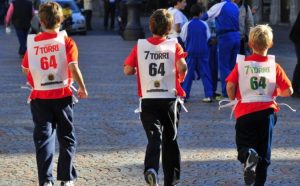 The race starts at 10:30 am in Piazza Chanoux.
The first tower that participants come across is the Tour du Pailleron (the meaning of 'pailleron', 'hay barn', is suggestive of its former use), the only one – together with Torre del Lebbroso – that has partially preserved its original appearance.
Runners then pass through the ruins of Plouve Tower, named after the noble family (De Plovia) who owned it in the Middle Ages.
Running along Via Hotel des Monnaies, participants come across the Tour Fromage, built between the 11th and 12th century by the De Casei family (whose name was later changed in 'Fromage', French for 'cheese').
Not far away rises the Tour du Baillage, now headquarters of the music school "Conservatoire de la Vallée d'Aoste". Built in the Middle Ages on the preexisting Roman tower, it housed the Bailiff (so the city's administrative offices), the courthouse and the prison.
The competition "Seven Towers Race" then moves to the west side of Aosta, where runners can admire the slight tilt of the Tour Neuve, erected around the second half of the 13th century.
The route then leads competitors to the Torre del Lebbroso (literally: Leper's Tower), ancient Roman bastion turned into a feudal residence by the noble family Friour around the 11-12th century. Here, in 1773, the Order of Saints Maurice hosted the leper Pietro Bernardo Guasco, whose stay in the Tower inspired the novel "Le lépreux de la cité d'Aoste" ("The Leper from Aosta"), written by Xavier de Maistre in 1811.
Lastly, returning towards Piazza Chanoux, runners come across the Bramafam Tower, a former granary. The origin of its name is still unknown, but a tale says that a member of the Challants, the most important family in 13th-century Aosta Valley, imprisoned his wife here, where she starved and died. 'Brama fam' means complaining of hunger, so the appellative might also be a reference to the former use of the Tower, where Aosta's population would gather to beg for food in times of famine.
The Seven Towers Race is a real "time travel" that allows participants to discover the beauty of Aosta and its intriguing history. An unmissable event for running enthusiasts and history lovers.
USEFUL INFORMATION
Area sport di Fulvio Assanti: phone +39 338 639 8747
mail>>>
ARE YOU IN AOSTA?
Take the opportunity to appreciate its traditional food>>>
(photos: VdA tourism official website)
More Information >>>